Norsk Tipping delivers
In total, profits from Norsk Tipping's operations in 2016 amounted to NOK 5 billion. This is a new record.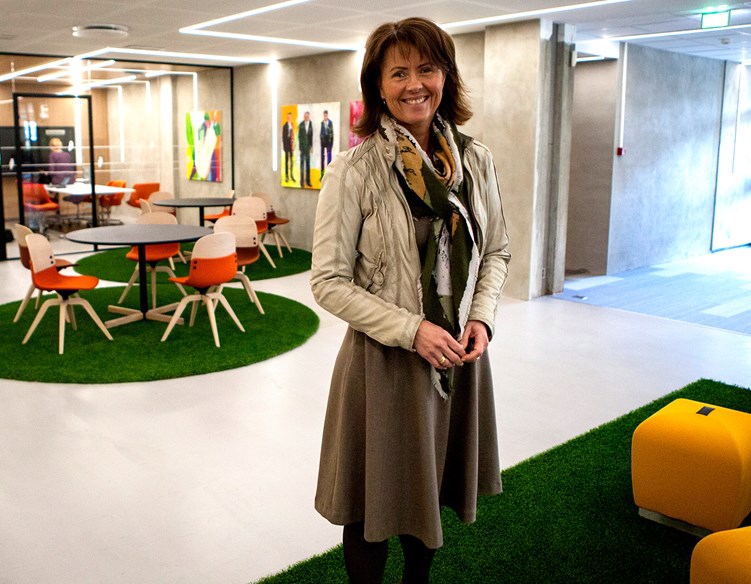 Norsk Tipping has a tripartite role in the community. We aim to offer attractive and responsible gaming activities, and in doing so to generate as much profit as possible as a resource for funding the voluntary sector throughout Norway. But if we have to choose between profits and responsible gaming, the choice is easy. Our first priority is to take care of our vulnerable players.
In 2016, our operations generated a total of NOK 5 billion for thousands of projects and activities, large and small, all over the country. Of this, NOK 150 million are put in reserve to consolidate the company's equity.
New sports facilities for people of all ages; vital emergency services in the mountains and at sea; health projects on all scales; equipment for garage bands and exciting theatre productions for schoolchildren. These are just a few examples of the tangible results of funding via gaming funds. Such funds are crucial for many aspects of the Norwegian voluntary sector, and we are proud to contribute to that section of our community that inspires personal involvement and voluntary efforts. Funds from gaming contribute towards a richer and healthier life, and inspire vigorous communities all across Norway!
Our role in society
However, the most important aim of Norsk Tipping's operations is not simply to maximise our profits.
Our activities are subject to statutory regulation with a view to preventing problems that may arise from gaming. This is the main task delegated to us by the Norwegian Parliament, and is thus the reason behind our aim to ensure that Norwegians who enjoy gaming should do so via Norsk Tipping.
Our role and special regulatory status are built on the premise that an organisation holding a monopoly is best suited to take care of vulnerable players who are experiencing problems linked to their gaming behaviour.
Our focus on responsible gaming takes precedence over commercial revenues. The profits we generate are ploughed back into the community, and do not accrue to private sector individuals, companies or investors. We are aware that it means a lot to those who receive allocations from Norsk Tipping to know that the funds have been obtained in a way that generates the least possible problems for players. For this reason, Norsk Tipping is a world leader in the field of responsible gaming. This is why in October last year we introduced total loss limits for all our games. Players have to set their own limits before they play. This is a preventive measure, and we know that it works.
Increased awareness
There is a fine line between attracting players to a regulated system on the one hand, and prevention on the other. At the same time, this is one of the most exciting aspects of working at Norsk Tipping. Each day I see the dedicated and determined ways in which the company and its employees work to find the right balance. Our awareness is high and responsibility is part of our DNA.
As I write, I have enjoyed only six months in the top job. So there is every reason to thank my predecessor Torbjørn Almlid for leaving the company in such good health. While he was at the helm, the general awareness of Norsk Tipping's role in society was consolidated, both in-house and among those looking on from the sidelines. Our technology platform has been modernised, and profits have grown during his period in charge. And all this in an ever-hardening competitive environment. 
Ambitions leading up to 2020
As we approach 2020, we have two ambitions – to inspire a new generation and to play an even more important role in the community. What does this mean for us?
There can be no doubt that the role we play must meet our customers' expectations. Our protected status in the form of strict gaming regulation is not in itself enough to attract the younger generation to the products we offer.
Games such as Tipping, Lotto, Oddsen and other well-known products, involving placing crosses on coupons, do not appeal to young people in the same way as they did to their parents. The younger generation has grown up in a different world, and is used to much greater choice. In an increasingly tougher and competitive market, we too have to 'deserve' our customers.
This is why we are all the more proud of our advances in this field. In 2016, we succeeded in attracting a larger number of young adult players, and now more than 25 per cent of our players are under 40. Our targets for the year have been met, and an earlier trend showing declining participation among young adults appears to have been turned around. This is at least as important to us as record profits. Increased involvement by those looking for gaming opportunities is vital for our legitimacy and ability to do the task we have been given.
The Gaming White Paper
The gaming market is up for debate. Is the monopoly model the best way of regulating the gaming market? Or do we protect consumers better by opening the door to private sector organisations who nevertheless do not respect the authorities' desire to regulate market access?
The White Paper "Everything to gain", presented by the government in December, concludes that the exclusive rights model works best. This conclusion is based on many comprehensive studies but, above all else, it demonstrates a clear and courageous value choice. But there is one important condition – the regulated system must maintain a strong and robust position in the market. As many players as possible will have to choose Norsk Tipping – not because they must, but because they want to. Greater levels of innovation are essential if our customers are to continue to choose Norsk Tipping. If not, the high influx of players seen in 2016 may be just a passing phase. The White Paper is thus a vote of confidence in Norsk Tipping, but it also means that we now have a great responsibility to modernise our products as we enter a new era.
Our transition to digital operations, preparing us for a new world, has thus been an important process for us during 2016. We have rationalised our workflow and processes so that we can offer greater excitement and entertainment more quickly to our players. Shorter lines of decision-making and production times, combined with more efficient implementation of development projects, will be the seeds of our future success in an increasingly demanding market. 
Knowledge means commitment
Of course, another factor that must come into play if the exclusive rights model is to survive is that it does the job it was designed to do. It must steer people's gaming desires towards a regulated system that also counteracts the negative consequences of gaming. Here we can draw optimism both from a nationwide survey carried out in 2016, and statistics taken from our Customer Helpline. However, there is little doubt that there are many players with problematic gaming behaviours even among our customers. The more we learn about their behaviour and problems, the better we can find effective solutions. In fact, it is having more data that has helped us to set new targets for our work during 2016 to promote responsible gaming.
Total loss limits, a maximum limit, and systematic and direct contact with our vulnerable customers are just some of the highlights. We also operate with a "No thanks list". Norsk Tipping offers no bonuses. We offer no incentives or VIP programmes. Refraining from offering such incentives is an initiative we suggested to the authorities ourselves and, of course, it reduces our revenues. However, we feel that this is an essential measure based on our increased knowledge of the gaming habits of our vulnerable players.
There are two projects in particular that have been assigned high priority during 2016 and which have demanded a great deal of resources. Firstly, the establishment of a system to facilitate more efficient project implementation and, secondly, the development of new tools designed to promote responsible gaming. As a result, we have not advanced as far as we would have liked with our other innovation projects. Now we have an even better foundation on which to consolidate our future innovation efforts, and will be directing even greater focus towards this field in the years ahead.
Our other social responsibilities
At Norsk Tipping, social responsibility means more than simply working to promote responsible gaming, although we have consolidated our efforts in this field in 2016. Norsk Tipping already has, and will continue to take, a clear responsibility for the ways in which we influence people, the environment, and society at large. We intend to make a more distinctive mark in several key fields. Anti-corruption initiatives and work to prevent malpractice, money laundering and other criminal activities are key fields, which we intend to strengthen. Purchasing and environmental work are other fields in which we intend to do more and work more systematically.
A more important role in the community
In many ways, the funds derived from gaming profits are the glue that binds Norwegian civil society together. They provide financial stability and ensure that there are pitches on which to play football, instruments for brass bands, and rescue vessels patrolling our coastline. For many, the donations they receive from Norsk Tipping make all the difference. This fills us with pleasure and pride. We know that we hold a unique position. It requires us to change in step with new needs and demands. Norsk Tipping is here for the people and works to benefit everyone. And when it comes to the future, with its demands, desires and challenges, I am sure that we are part of the solution. There is also a promise I wish to make; at Norsk Tipping we place considerations for responsible gaming above any commercial interests. This is a sound and important golden rule to follow in exciting and challenging times.